Contact Us
Dot Founder is a top-of-the-line creative digital company, dedicated to enriching digital experiences by providing innovative and ingenious solutions to small and large-scale businesses.
Android Mobile App Development Services In Faisalabad
Explore a World of Possibilities with Android Apps for Business Growth. The top two devices on the market are the iPhone and the Android phone. While leading companies recognize the value that mobile apps bring to their business, they must decide on which device to support. Since mobile apps are not a "one app fits all" type of software, there are some key differences between the two devices that must be considered: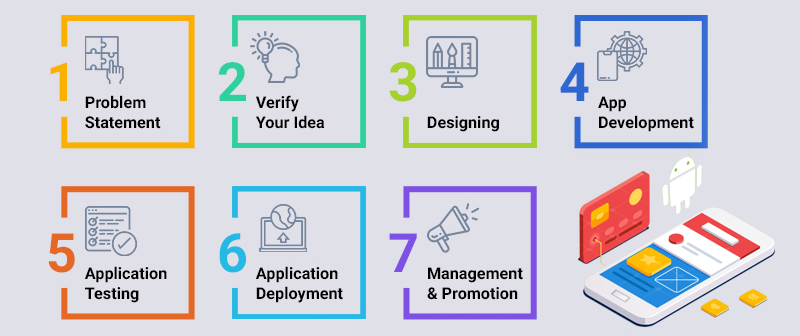 Android Mobile App Development Company In Faisalabad You Can Trust
Here at Dot Founder, we understand the rapid trepidations of modern tech. We know how to listen to our clients and how to align their business goals with the best and most up-to-date mobile app development processes. Our web development agency is present both in Houston and Pakistan – so if your business is located there or the surrounding areas, make sure to contact us.
Operating System – The iPhone operates on Apple's iOSmobile platform. Program development for the iPhone requires Objective-C and iOS-sdk. Android phone operates on Google's Android operating system; program development requires Java and Android-sdk. The real question is which OS better supports the majority of its maker's mobile devices, and the clear answer is Apple iOS. Six months after the release of Google's latest OS, only 2.9% of Android devices have access. This is largely due to the fact that there are many Android makers on the market. Each maker controls when an OS is released and are generally slow about it. On the other hand, Apple is the only company that manufactures the iPhone, so consistency in OS is far better and a key differentiator. Apple does a far better job at supporting older devices with the latest OS. For example, the latest OS release, iOS6, is fully supported nearly three years back on the iPhone 3GS. This means that iPhone users and developers generally have access to the very latest features as soon as they become available.

App Availability – Apple has a less open mobile OS than Google. Apple's strict app approval processcan somewhat limit app availability, but at the same time filters out potentially dangerous malware. On the other hand, Google's standard for app approval is less restrictive. However, the large numbers of Android phones and OS versions to support makes it more difficult and costly to develop mobile apps for the Android.

Networking–Speed is always a requirement, especially in business. The fastest wireless data standard is now the 4G LTE. With the release of the iPhone 5, now both Android and iPhone devices support this superfast network. However, you do need a compatible Android or iPhone device, and not all areas and carriers support the network. So those factors must be considered.

Advantages/Disadvantages–Android's advantage is that it offers a much more flexible OS than the iPhone. Device settings and even the look and feel of the device can be tweaked through readily available apps, a key favorite among consumers. So if flexible customization is an important driver, the Android may be the device for you. The issue of fragmentation is clearly the major disadvantage for Android. Multiple devices and operating systems to support must be considered when weighing in on which device to choose for your mobile app.
ANDROID MOBILE APP DEVELOPMENT - ANDROID APP DEVELOPMENT IN FAISALABAD
Customization limitation can be seen as a disadvantage for the iPhone. Apple has standardized the user interface to deliver what they believe is the best user experience, limiting the flexibility to change the look and feel. However, that limitation is mostly subjective because iPhone's advantage is its user experience— the fact that it not only looks great but that it simply works. Its retina display technology delivers the most pixel-rich display, FaceTime enables seamless video chatting, and Siri's voice command and search system simplifies everyday activities—all features that contribute to its renown user experience.
WHY CHOOSE DOT FOUNDER FOR ANDROID APP DEVELOPMENT IN FAISALABAD?
Regardless of whether you run your business from Houston or Pakistan, you can rest assured that our Android development agency in Faisalabad will take on your project and lead it to a successful end: an Android app that meets all of your requirements is completely user-friendly and can provide genuine value to your business.
We use pure coding knowledge, combined with a fair share of marketing and design knowledge to deliver Houston app development services fully integrated with your business plan. We are more than an Android App Development Company – we are a tech partner you can trust and rely on. Our Houston Android app developers are here to serve you and your business.
LOOKING FOR THE TOP MOBILE APP DEVELOPERS IN FAISALABAD
Sometimes, having an in-house development team is simply not enough. App Maisters is aware of the fact that your business needs to move fast—you need the best team for getting the job done, yet there seems very little or no time to achieve all that. We have the talent, work flow and the scale standard to meet a project of any size. Our proficient app developers can work with your internal team to achieve the exact results your business wants. Contact us if you are from Faisalabad and you need any help assistance at all with your mobile application development. Let's join hands to enhance your productivity, your way.
ANDROID APP DEVELOPMENT IN FAISALABAD FOR EVERY STARTUPS FAISALABAD
What would you like Dot Founder to build for your business? Submit a request at the left hand side of this page to get started today. Contact us if you have any questions.
FREQUENTLY ASKED QUESTIONS
Yes, in fact nearly every mobile app that we build also needs a web based application behind the scenes to drive it. Ever logged into an app? There is a web server in the background, serving the app with data that is checking whether you have permission to log in, or not.
Yes, you will be assigned appropriate copyright or licence rights for the bespoke code that we write for your project. We are transparent with intellectual property rights, and you will have the opportunity to review our code ownership terms before the project begins.
To ensure a secure service, we do not publicly detail all our security precautions. However, we can provide an overview of some of the steps we take to protect your data:
If you host with us, our data centre is based in London, with dedicated managed servers supplied by VI.net. These data centres are manned with 24/7/365 access via secure procedures. Redundant, meshed Cisco 6500 series routers (true as of 9/2017) with redundant fibres capable of 320Gb/s in total-for-total resilience. Our servers are regularly updated to run the latest software and patches, and the servers themselves have a firewall.
The back-end server code used to drive your application is configured to run over HTTPS and has a secure SSL certificate installed.