Contact Us
Dot Founder is a top-of-the-line creative digital company, dedicated to enriching digital experiences by providing innovative and ingenious solutions to small and large-scale businesses.
Custom Web Development Services In Faisalabad
We meticulously develop adaptable, responsive websites that are simple to update and customized for each client's specific needs. Additionally, we've helped our clients develop custom plugins to streamline content updates and easily track problems, users, actions, and more.
We will design a unique website or mobile app for your business that is tailored to meet your requirements and business objectives using Google's Material Design specifications and goals.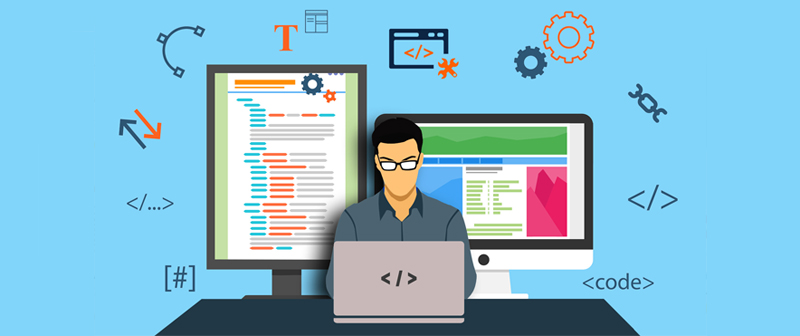 DOT FOUNDER | Custom Web Development Services In Faisalabad You Can Trust
A successful website should act as a communication channel between your business and your target audience. Instead of simply promoting a product or service, it should deliver an unforgettable experience. Building a positive lasting effect or feeling can encourage consumers to come back for that same experience or recommend it to others.
Using sleek aesthetics and out-of-the-box design concepts, we design and develop websites that are powerful business channels that connect with the target audience. Our websites are clean, clear and customized to individual needs.
Web Design - We conduct extensive research to understand market trends, competition and target audiences to create design ideas that stand out online.

Web Development - With years of experience we can take any concept to reality by developing standard and customized web solutions that meet specific business goals.

Web Integration - We can integrate any type of web service and API without affecting the current site performance and end-user experience.
Dot Founder consists of some of the top-ranked Custom Web Development Services In Faisalabad that specialize in developing web solutions for clients around the world. They have mastered the art of Custom development and programming while creating customized solutions for their clients while keeping in mind each specific need.
Our specialties include eCommerce, business application development, CMS and PHP development in Faisalabad. We are able to develop eCommerce and online web applications by combining the most popular open source development technologies including Ajax, Linux, Apache, PHP and MySQL.
With PHP taking over the web, Dot Founder has become experts in using this platform to its highest potential. Our team creates productive, innovative and creative solutions that are inline with your long term business goals. Because PHP is an open source scripting language we can use this to our full advantage. Our PHP web development team will come up with ideas that will make your dreams a reality.
WHY CHOOSE DOT FOUNDER FOR CUSTOM WEB DEVELOPMENT IN FAISALABAD
We communicate effectively with you to make sure we are giving you exactly what you want and welcome your suggestions in the design process. With a team of HTML coders, WordPress designers and PHP developers we help by staying ahead of others and helping you make smart decisions for all of your website needs. There is no task that is too complicated.
We use pure coding knowledge, combined with a fair share of marketing and design knowledge to deliver Houston app development services fully integrated with your business plan. We are more than an Android App Development Company – we are a tech partner you can trust and rely on. Our Houston Android app developers are here to serve you and your business.
LOOKING FOR THE TOP CUSTOM WEB DEVELOPERS IN FAISALABAD
Upon speaking with our accounts specialists, we will send you a formal proposal including the details of your project.
Once you approve your web design proposal, a start date is scheduled and your designated website designer will begin the design process. Upon the completion and approval of your website design, it is sent to our website developers who will then begin the coding process. After coding is complete,
we issue a QC (Quality Check) of the site. At this stage, we offer you the chance to thoroughly review the website and, if needed, request further changes. Given your approval, the site goes live and the project is complete.
DOT FOUNDER CUSTOM WEB DESIGN COST FACTORS
Here at Dot Founder, we specialize in creating CUSTOM WEB DEVELOPMENT IN FAISALABAD - it's what we do! And our prices are no different. Your cost will be as custom as your project. Here are a few cost factors that may determine your total cost.
The number of pages your site requires
Type of website (e-commerce, informational, portfolio, etc.)
Features on your site (gravity forms, live chat service, web apps, etc.)
The number of hours is required to complete your website.
FREQUENTLY ASKED QUESTIONS
There's not one single answer to this question. A website design is quoted based on the needs of each individual project. Every website is unique and requires different components; we design and develop custom websites specifically for your small business. We'll ask a lot of questions, assess your needs, and give you a quote based on that assessment. Most of our sites run in the $3,000 – $5,000 range, but can be more or less depending on needs.
On average, we shoot for a six to eight week turnaround, but the pace of any project is set by each client. How much input you can provide during the initial stages, your availability with feedback, how soon the content is ready – all this affects the speed of completion. The functionality needs may also play a role – more complex sites will take more time to develop.
A lot! Your input and feedback is crucial to this process. We'll start with a lot of questions about your needs, your likes, your wants and work with you to develop just the right look and functionality.